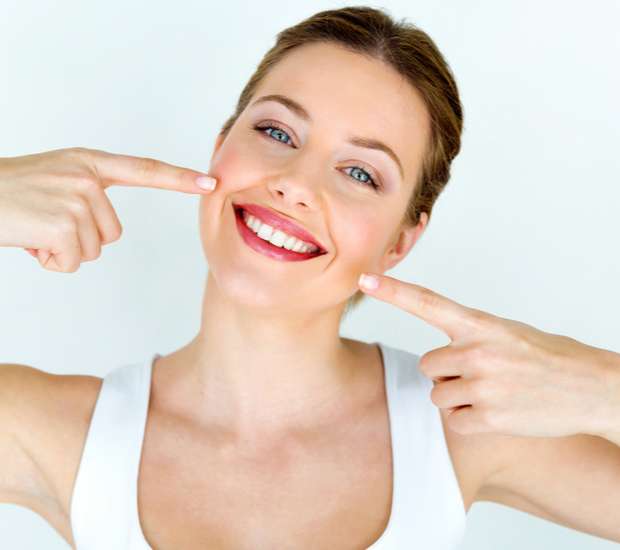 INBRACE
Tustin, CA
While straighter teeth provide a more uniform appearance, they also boost a patient's oral health by making it easier to clean the teeth. With a variety of possible orthodontic options for straightening teeth, we can help patients find the option that meets their needs and lifestyle. INBRACE is a form of teeth straightening treatment that involves placing a wire on the backside of teeth for a truly invisible and convenient straightening process.
INBRACE is offered at FitSmiles Orthodontics in Tustin and the surrounding area. Dr. Hany Youssef, D.D.S., M.S. is a top elite provider for INBRACE in the country. A key difference between INBRACE and other straightening products is that INBRACE uses a wire that runs along the back of the teeth, so they are not visible.
If you are interested in learning more about INBRACE and seeing if this is the teeth-straightening treatment you need, give us a call at (714) 782-0217 and schedule an appointment.
Request Virtual Consultation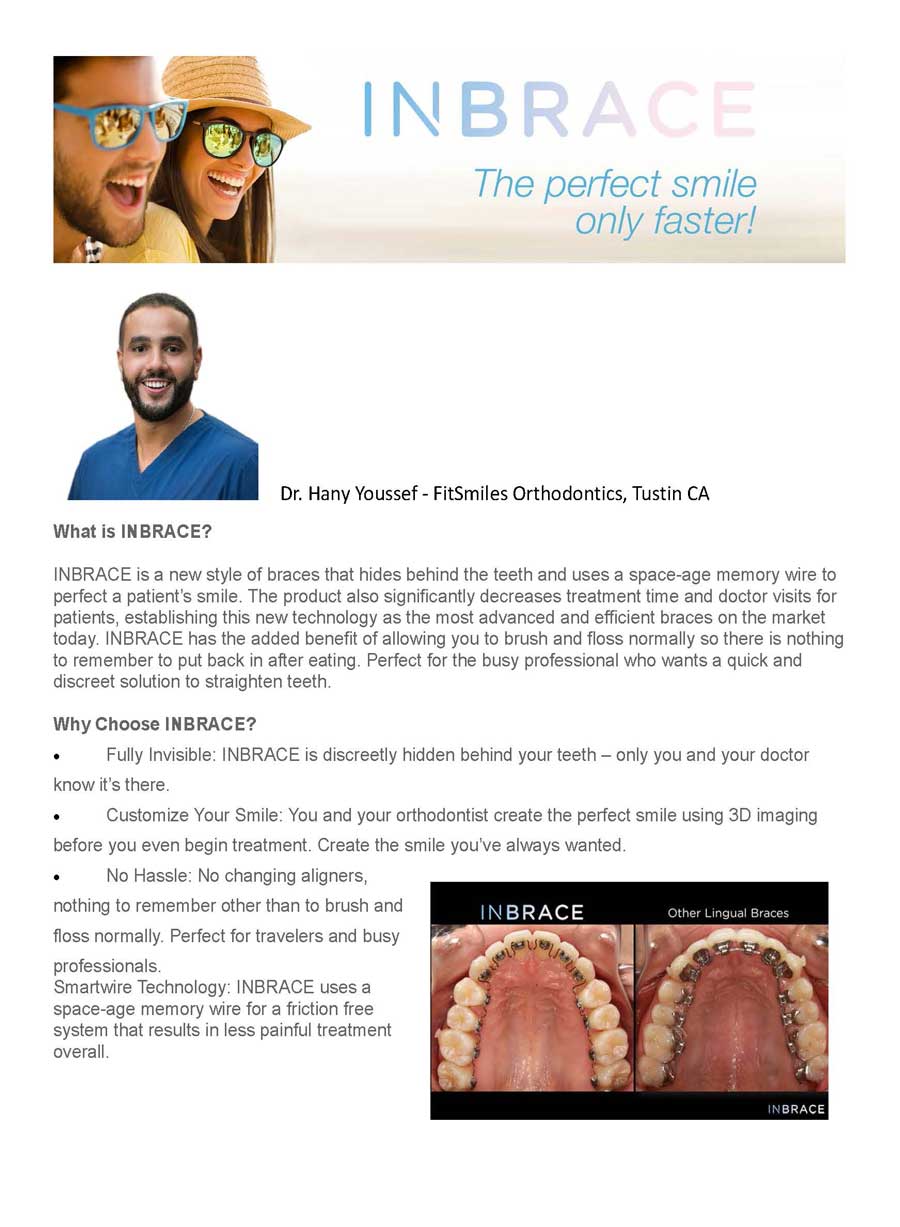 How it Works(Captions Included)
Why Imbrace (Captions Included)
Benefits of INBRACE
By placing the teeth-straightening technology on the backside of the teeth, patients can continue to straighten their teeth without it impacting their appearance or eating habits. Unlike clear aligners, INBRACE does not require the patient to take it out when consuming food or beverages. As an orthodontist, we can ensure the wire is customized to the specific shape of the patient's mouth and the positions of their teeth.
Benefits of INBRACE include:
Not noticeable
Not needing to remove the wire when eating or drinking
Not drastically changing one's oral hygiene routine
Using Gentleforce technology for healthy tooth movement
Not needing to feel self-conscious of treatment being visible in one's smile
Customized treatment
Since no patient is exactly like another, there is no one-size-fits-all treatment for straightening teeth. Rather, each treatment is customized to the individual patient's set of teeth. With computer technology, we will create a mold of the patient's teeth before mapping out the shifting process to the proper location.
INBRACE will then apply the proper amount of force to gently shift the teeth into the correct position over time. While there may be some discomfort for the first two weeks, the pain will only be temporary. Once the teeth have time to adjust to the wire, the pain will go away and the treatment will continue. The patient may need a few checkup appointments throughout the process to help ensure everything is running smoothly.
If the patient damages the INBRACE wire at all, then they will need to schedule an appointment with us immediately.
What you need to know about INBRACE
As an orthodontist, Dr. Hany Youssef, D.D.S., M.S. will work with the team at FitSmiles Orthodontics to help patients remain comfortable during the placement of the INRBACE wire. Following treatment, we will need to review a few factors of this treatment with the patient. While INBRAE uses advanced technology to correct teeth alignment, there are still steps that patients need to complete throughout the treatment process. These can include:
Needing to keep up oral hygiene
Adjust to changes in speech
Continuing to avoid certain foods
Keeping up oral hygiene
Even though INBRACE is on the backside of the teeth, the patient needs to continue regular brushing and flossing. Patients need to maintain their oral health, no matter what teeth straightening treatment they are using. Fortunately, brushing and flossing with INBRACE does not require any changes to brushing twice per day and flossing at least once per day.
The patient does not need to remove anything or spend money on special tools for brushing and flossing. It may be beneficial to use a softer toothbrush and be gentle around the wire on the back of the teeth, but otherwise, the patient can continue with the same routine.
Adjust to changes in speech
Similar to other teeth-straightening methods, INBRACE will alter the patient's speech slightly. However, the patient will begin to adjust to it after a few weeks. The impact on the patient's speech will vary per each patient.
Continuing to avoid certain foods
As an orthodontist, we can guide the patient on certain foods that will risk damaging the teeth or interfere with the straightening process. While wearing INBRACE, patients will need to avoid hard, sticky and chewy foods. Things like taffy, gum, nuts, chips and other types of candy. During the treatment, we can go over the other foods that people will need to avoid.
Eating these foods can risk damaging or shifting the wire, which will cause pain and prolong the treatment process.
Call us today
If you are interested in learning more about INBRACE and how it can straighten your teeth, call us at (714) 782-0217 and schedule an appointment today.
Recent Posts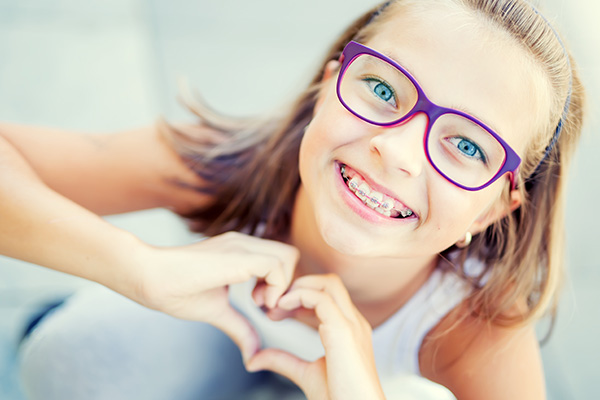 A lot of parents are familiar with traditional orthodontic treatments for older children, adolescents and adults, such as braces or aligners. Parents may not know that younger children may need early orthodontic treatment. When children have serious oral problems early on in life, the solution is often early orthodontic treatment that starts around age seven…